Read Time:
5 Minute, 17 Second
[ad_1]

The holiday season always seems to be hectic in the world of email marketing. It's your last ditch effort to meet your annual goals, so stress levels and email volumes are at an all-time high. Subscribers are also busier than ever, making it even harder to reach them. How can you do yourself good at this "most wonderful time of the year"?
Our curiosity got the better of us, so we analyzed nearly 2.5 billion email opens between Thanksgiving and New Years. And what we saw was really different from the trends we found in the first three quarters of the year. And it can be useful for planning the year ahead.
How does email engagement change during the holiday season?
By exploring the data from year-end emails, some interesting trends emerged. Here are three of our takeaways.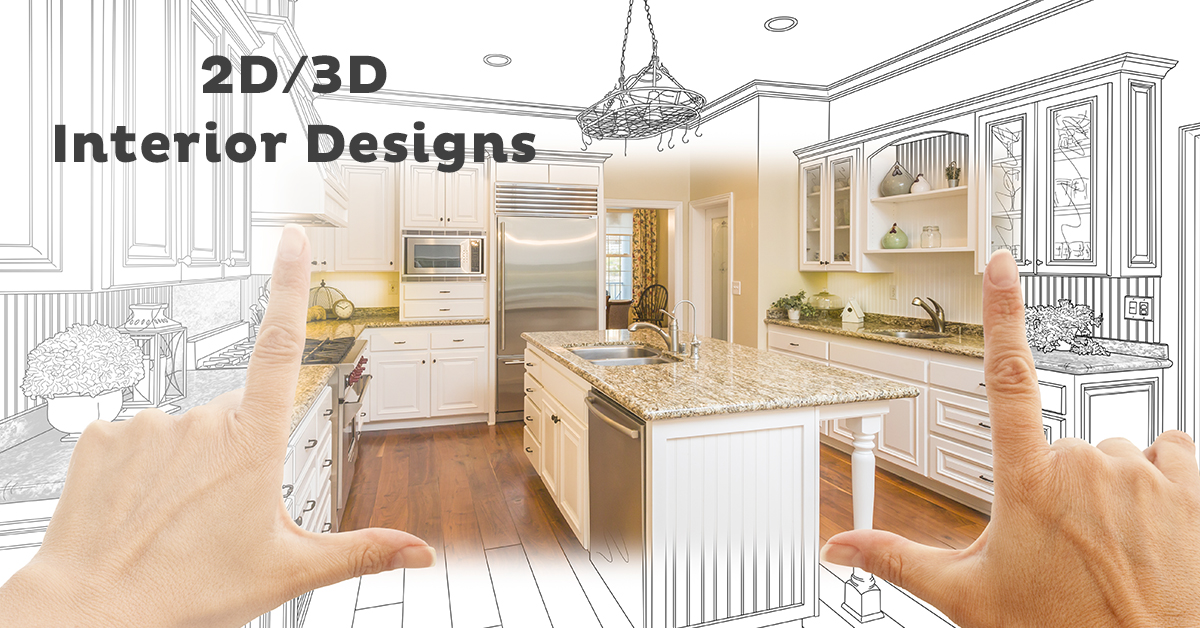 1. Mobile email openings have increased and taken the top spot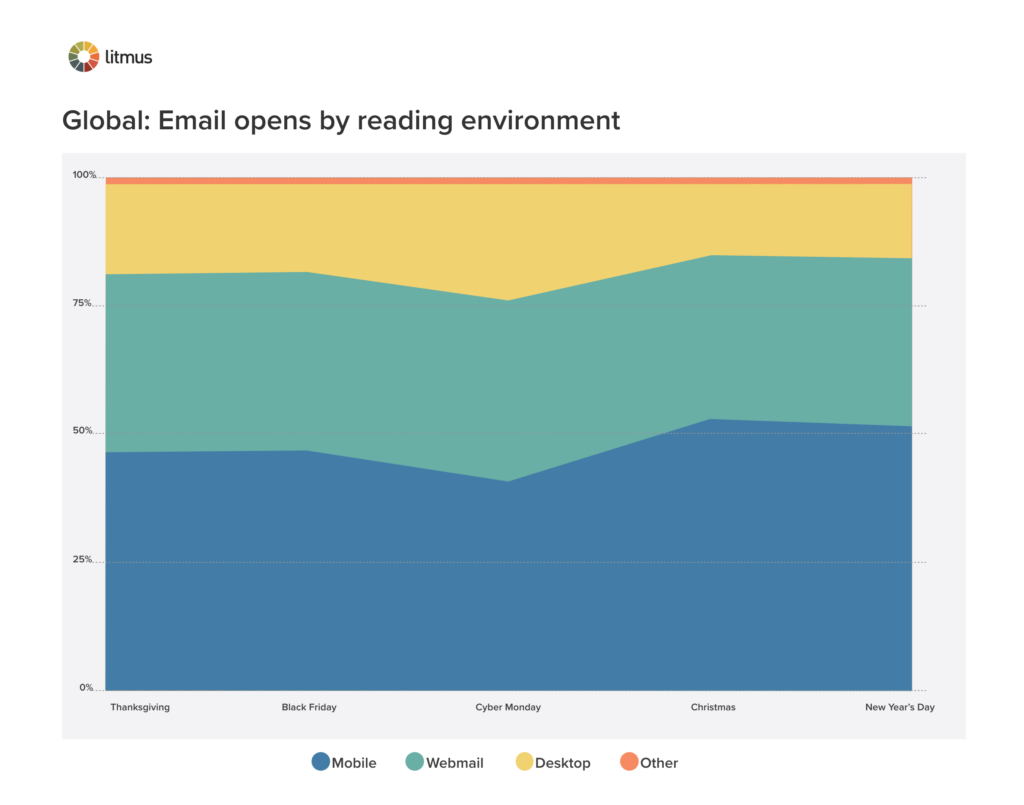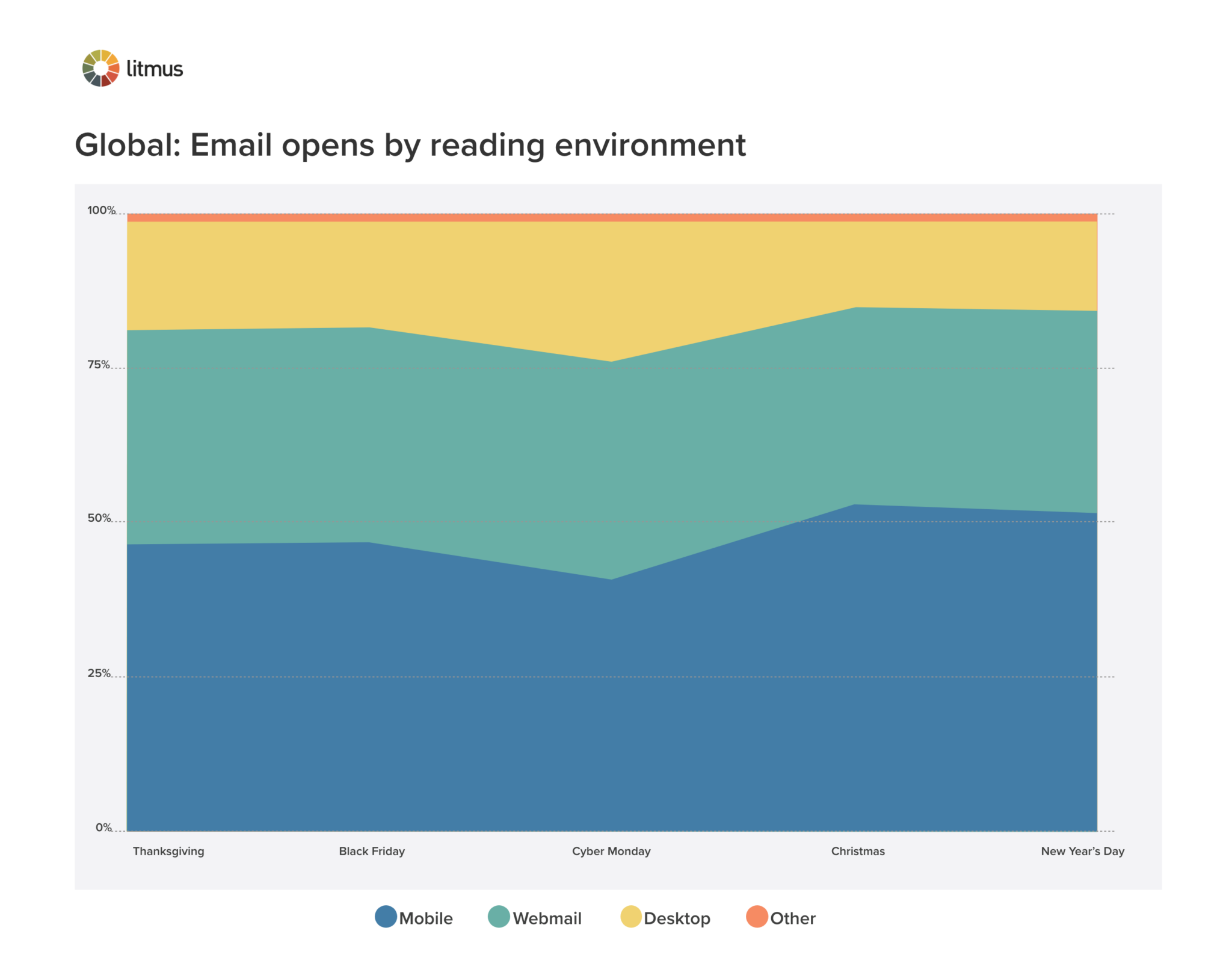 People have mainly been opening emails on mobile devices for quite some time now, but in our 2020 Email Engagement State we have seen an increase in the number of emails opened after the start of the COVID-pandemic. 19. It's true, webmail has overthrown mobile as the preferred place for subscribers to open their emails.
However, as 2020 drew to a close, we saw mobile openings gain traction again and the uptrend continued as we neared the end of the year.
From Thanksgiving to New Years Day, about 44.2% of people opened email on a mobile device, 34.6% through webmail, and 19.8% in a desktop app.
Saturdays in particular see a bigger bump in mobile email. And while we generally saw a slight drop in mobile email opens during the work week, they were pretty even between Christmas and New Years.
In general, when people are not at work, they are more likely to read email on their mobile devices. Holidays typically occur when people are 'out of the office', so it's no surprise that mobile phone openings have remained consistently high during this time.
It is a good idea to look at your own open data in your email sending platform or in a tool like Litmus Email Analytics, in order to optimize your emails for your public. For example, did you know that most of our own subscribers don't read Litmus emails on mobile?
With high mobile openness, you'll want to focus on creating mobile-friendly emails. While you usually don't see a lot of openings on your own audience's mobile devices, you might notice the same trend here with mobile openings on Saturdays and holidays. So what if you send emails during these times? Mobile is not something you can ignore.
2. People opened emails at 7pm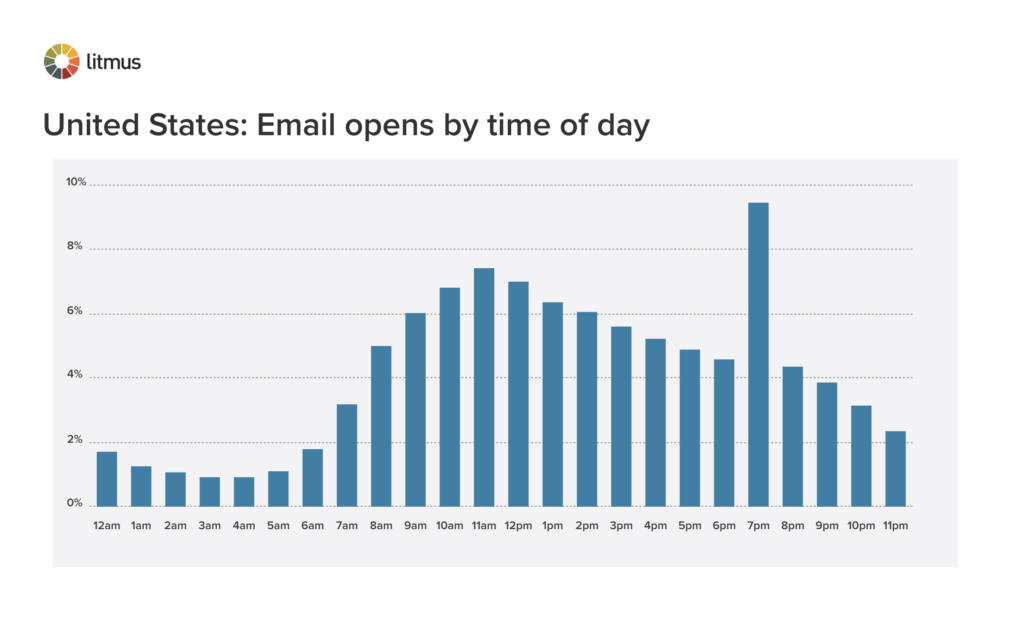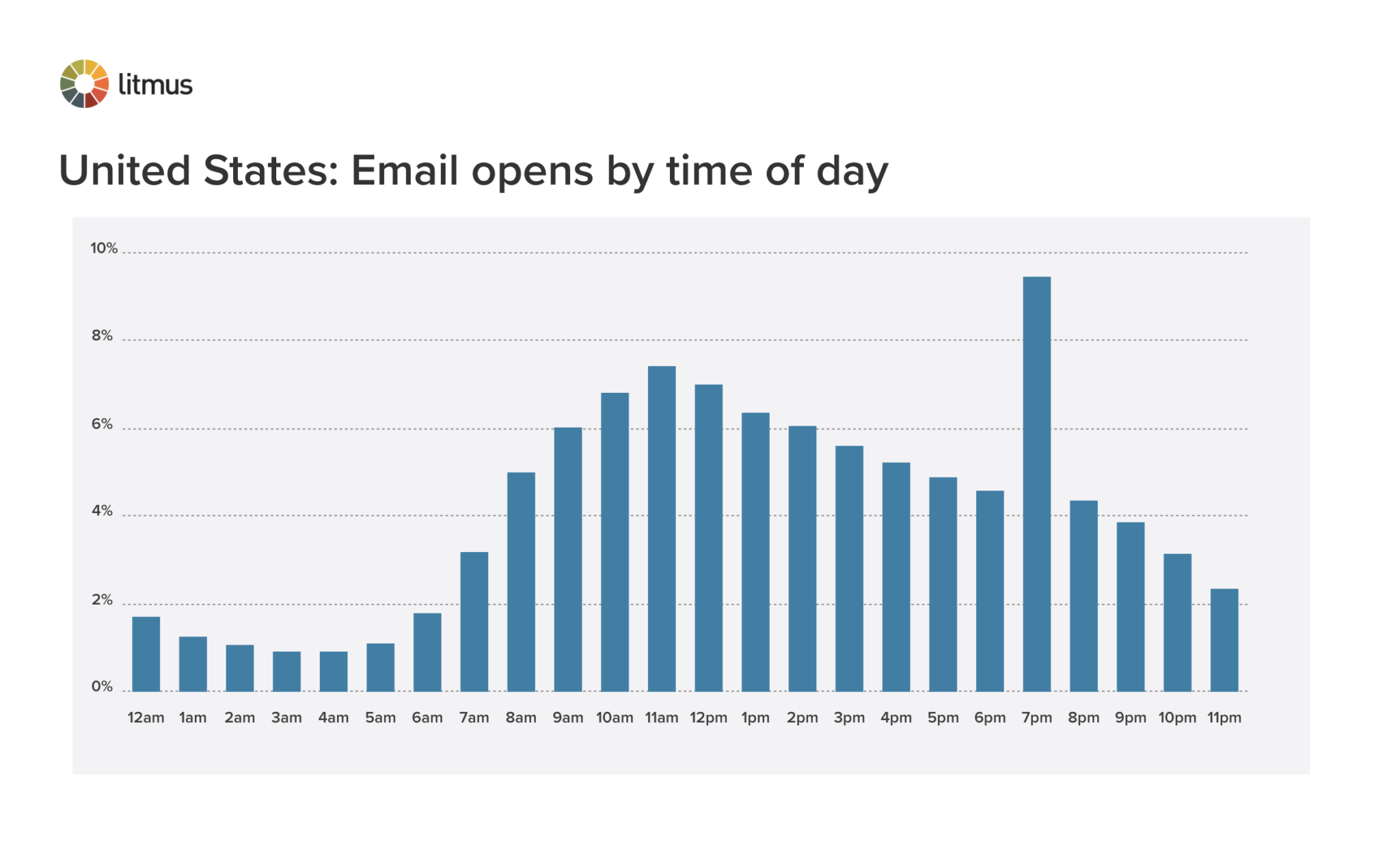 To dive into when people were more likely to open emails during the holiday season, we focused only on US data (so much data, so little time!). Compare that to the best time to email, and you'll notice it's not 10am here. In fact, 10 am isn't even the second most popular time to open an email.
What we found was that 7pm was by far the most popular time of day, from Thanksgiving to New Years, with 9.45% of emails opened on average.
It appears that people are less engaged with email throughout the day during the holidays than before them. Instead, they preferred to open at narrower times of the day, like 7 p.m. or mid-morning. This is especially true after Christmas.
Who would have thought that?
You may want to consider changing your messaging routine when the holidays arrive this year.
That being said, we are in a pandemic, and anything goes. So I wouldn't be surprised if the end of 2021 shows us something completely different. That's why it's important to be agile and stay on top of your followers' behaviors as they can change at any time.
3. But lunch time was a favorite for shopping
We noticed a few significant exceptions at 7:00 p.m. being the most popular time to open emails while on vacation in the United States: Sunday, Christmas, and the biggest shopping days of the year.
On a closer look, here are the three most popular email opening hours for top-selling purchases:
Black friday: 11h (9.17%), 10h (8.41%), 12h (8.28%)
Cyber ​​monday: 11h (8.16%), 12h (8.08%), 10h (7.63%)
Green monday: 12 p.m. (9.14%), 1 p.m. (7.83%), 7 p.m. (7.67%)
Since people don't want to miss out on the best deals or risk running out of stock, it's no wonder 7pm is banned.
Lunchtime is probably ideal since Black Friday, Cyber ​​Monday, and Green Monday fall on working days. And buying the sales requires more time people spend on their break than stealing glances on their phones when they're supposed to be working.
So if you have a big sale coming up, it may be worth testing to see if your audience also prefers shopping between 11am and 1pm local time. Hint: there's a vacation right around the corner.
There is no one-size-fits-all messaging strategy for the holidays
The holiday season is a critical time for many businesses, and it could be your last chance to meet or exceed your goals.
While the information we've shared here may help you serve as a baseline for your next holiday email marketing strategy, there is no one-size-fits-all approach. You have to see the behavior of your own audience.
Even if you know your audience, you can't assume that they will always behave the same month to month, or even day to day. Our data proves it, and we've barely scratched the surface when zooming in to about a month of the year.
Make sure to follow the trends in your email performance. What if you want to dig deeper to see when your subscribers open your emails, how long they read them, and more? Find out what Litmus Email Analytics can do for you.
Start your free trial →
[ad_2]