Read Time:
5 Minute, 53 Second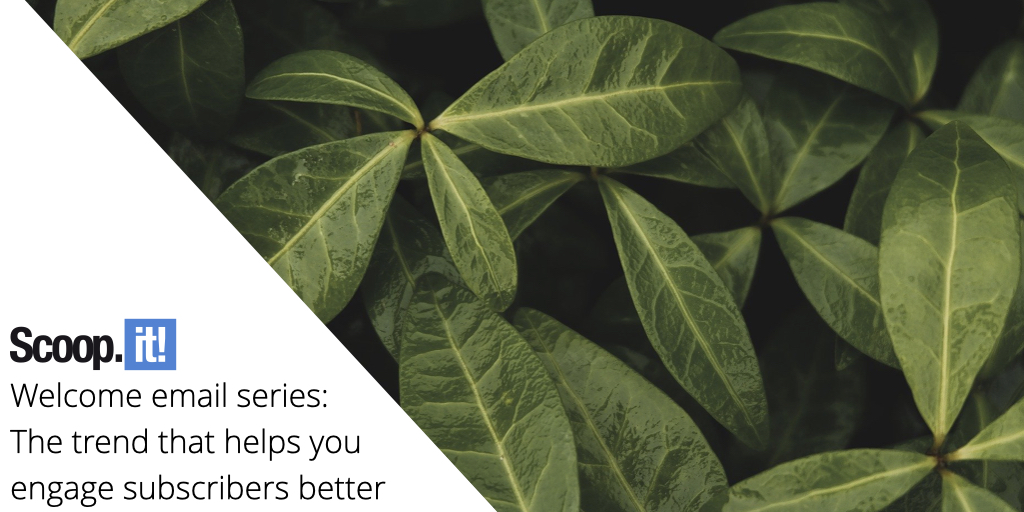 Imagine that. You are going on a date with someone you love. But then you feel uncomfortable and unwanted. What will you do? You will probably refuse to see them again.
The same goes for your email subscribers. As soon as subscribers join your mailing list, they expect you to greet and welcome them. This is where welcome emails come into the picture.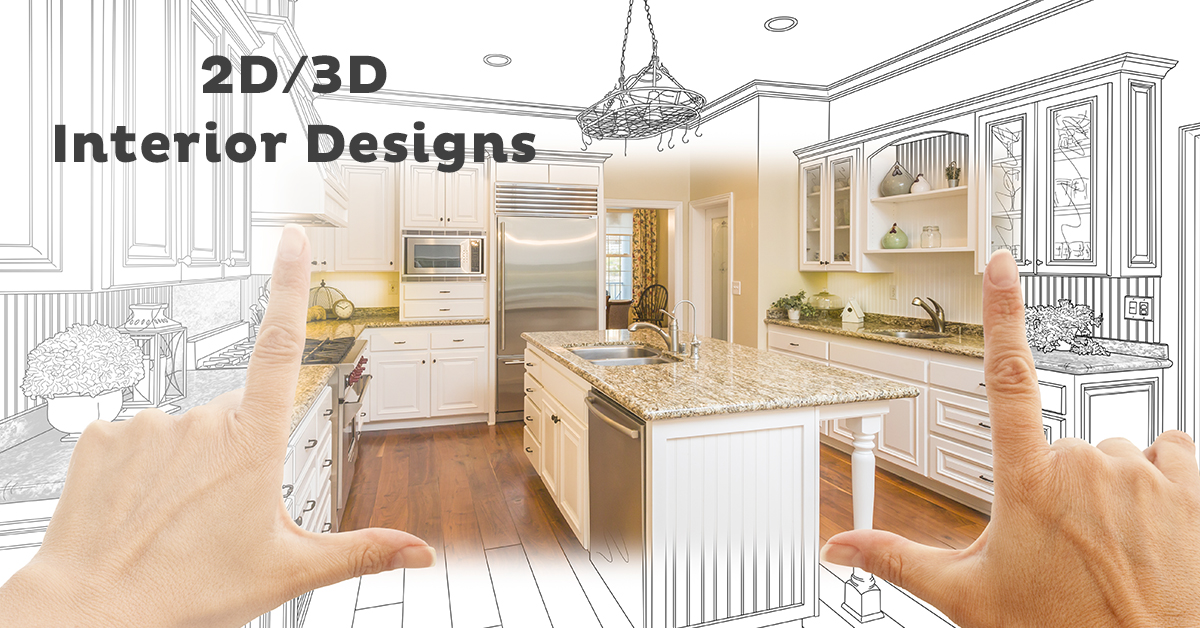 Take a look at these statistics:
Source
Your welcome email marks your first interaction with the prospect and lays the foundation for all your future email communications.
Do it right, and you have a chance to have a powerful impact on the subscriber's mind and keep them hooked on your communications. After all, a good start is half done.
In this article, I'll share some essential information you need to know in order to create welcome emails that will win the hearts of your new subscriber.
Let's start with a few basics.
What is a welcome email?
A welcome email introduces subscribers to a brand. It is usually sent as an automated email shortly after a customer has completed a registration form or made a purchase.
You can also introduce your team, your company values, next steps and other details the subscriber MUST know. Some marketers even share the range of products and services they offer.
Take a look at this welcome email template by Hochanda. They used the perfect combination of text and images to highlight their message.
Actions that trigger a welcome email
Several actions can trigger a welcome email. These are:
When a

the website visitor fills out a registration form or subscribes to the blog and newsletter

When a prospect makes the first purchase

When a customer signs up for special offers, giveaways, or special offers

When a client joins a training, webinar, mini-course, or workshop

When a potential customer inquires about a product or service

When an existing customer purchases another service
Note that you may need to create separate welcome emails depending on the source from which subscribers are signing up.
For example, suppose a prospect enters your email list through a LinkedIn ad campaign highlighting a particular characteristic of your product or service. Your welcome email should be aligned with the message that was communicated through this ad campaign.
Using the same welcome message for each prospect will reduce their trust in you. Accordingly, you should pay special attention to welcome emails.
With that said, let's discuss the importance of welcome emails.
Why are welcome emails an integral part of your email marketing?
Welcome emails help you grow your brand, nurture customer relationships, and drive better sales and conversions.
Despite these advantages, hardly 57.7% of brands send welcome emails to welcome new subscribers.
41% of brands fail to send a welcome email within the first 48 hours and 27% do not send an email within the first three weeks.
Subscribers who receive welcome emails are likely to view

33% more engagement with the brand

. It's no wonder that welcome emails get four times the open rate and five times the click-through rate than standard email marketing campaigns. Additionally, these emails bring in three times more transactions and revenue for each email than marketing emails.
Every relationship is nourished by trust. Your relationship with the subscriber is no different. Receiving a welcome email acknowledging their first interaction with your brand will make them feel special and give them a sense of exclusivity. You can also let readers know about your vision statement, mission, and brand values ​​using your welcome email.
A well-designed welcome email can open new avenues for conversions and increase word of mouth for your brand.
The subscriber may not open other emails from you. That's why you need to make the most of this opportunity and demonstrate the most critical USPs to potential customers.
Pre-send rituals of sending welcome emails
Whenever a user comes to your website for the first time, make sure you have an easily visible sign-up form. It's a bonus if you can promise a bonus in return for the email address. (like the example below)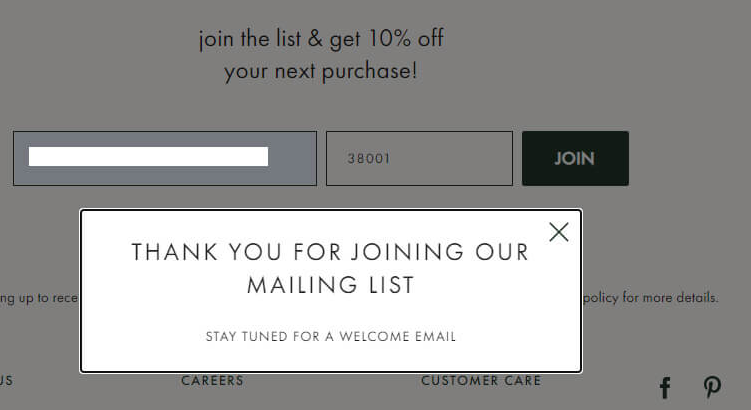 Did you notice how they thanked the subscriber and clearly mentioned that they will send a welcome email?
It's a great way to get people to « wait » for and engage with your welcome email.
Once a user has registered, you can send a confirmation email that reiterates all of the details they have filled out.
Take a look at the example below.
Also find out how they informed the new subscriber that they would be sending a series of two welcome emails.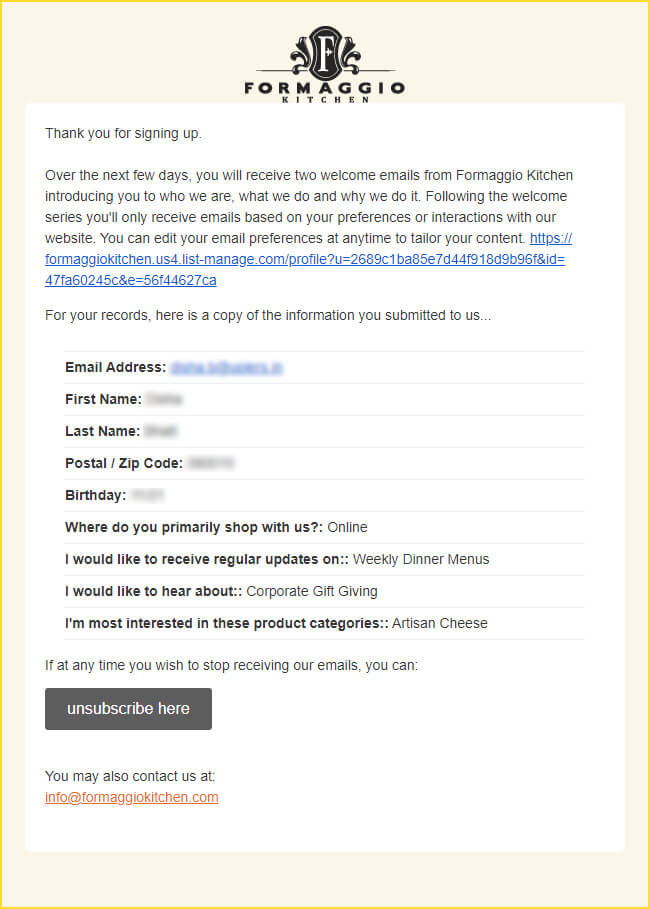 This forms the basis for the next section in which we will talk about the welcome email series.
Introducing the Welcome Email Series
↵
As stated at the beginning, many marketers don't send a welcome email. If you are one of those who do, well, you have the edge over your competition.
To increase the level of the game, you can send a series of two to four welcome emails.
You can adjust this sequence of emails according to your industry and the messages you want to send in the initial phase. The best part is that you can automate the whole process. This way your series of emails will reach the subscriber at the specified time without any manual intervention.
Benefits of Sending the Welcome Email Series
Your subscribers sign up on various websites and make their first purchase on different eCommerce stores. They are already inundated with many emails. As a result, it is highly likely that your message gets buried under the pile of emails they are receiving and ends up getting lost.
Even if they open your first welcome email and read it, they'll likely forget about it. A series of welcome emails will give you more of a chance to grab the recipient's attention and be a great brand building exercise.
If you are one of those lucky ones, your subscribers could read all the emails in the series and could even convert.
Here is a series of four welcome emails sent by TopShop:
In the first email in the series, they greet the user with a 10% discount offer.

The second email introduces readers to the brand and gives them an overview of their online store via a GIF.
The third email notifies the user of Topshop's accounts on Snapchat, Instagram, Facebook, Twitter, Pinterest, YouTube and their blog. It presents the user with alternative channels to log into TopShop.

In the last email in the series, they talked about their products and their collaborations with various influencers.

Wrap
What goes into creating an effective welcome email series? Hope these tips and sample emails have given you a clear picture. The key is to understand your target audience and welcome them accordingly. Of course, you should follow best email marketing practices such as sticking to brand guidelines, making it visually appealing, and writing concise yet engaging copy.
Let me end with an interesting welcome email with some cute animation to inspire you: